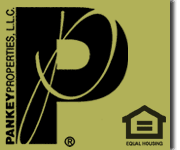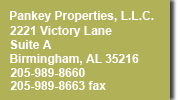 Welcome to Pankey Properties, LLC...

Nice people serving
nice people!
Pankey Properties, L.L.C. has been in business since 1990. Our company is involved in leasing and managing multi-family communities, commercial property and mini storage facilities. We are also involved in residential real estate development and construction.

The corporate office is located in Hoover, Alabama; however, our properties are spread throughout Alabama and the Gulf Coast.

Pankey Properties is involved in local, state and national civic, cultural and professional organizations. Our goals always take into account the needs of our neighbors, as well as ourselves.

We place a high regard on ethical and honest business practices and constantly strive to achieve excellence in our field. In doing so, we create an environment where our customers and employees are each valued and appreciated.